Digital Strategy 101: Digital Channels Overview with Statistics
The best way to limit your digital marketing efforts is operating without a defined strategy.
A digital strategy is the traditional marketing equivalent to Integrated Marketing Communication (IMC), whereby all your channels align with the same objectives and messages.
Digital has an obvious advantage over traditional marketing: data. But if you don't know how to interpret, analyse and pull insights from your data – and few know how to do this well – you're not tapping into your full potential.
For this reason, our Brisbane SEO company and AdWords team have decided to create a multipart blog entry that discusses digital strategy across the following areas:
What is a digital strategy and the digital channel mix
Defining your goals, strategy and tactics
Developing channel-level strategies
Cross-channel strategies
Collecting and analysing channel data
Analysis and measurement
Handy tools
Here's Part 1:
What is a Digital Strategy?
A digital marketing strategy is a plan encompassing a range of channels to increase sales, awareness, growth and engagement for a product, service or brand that is timely, reasonable and measurable.
The best digital strategies have:
Micro-strategies for all digital channels, which all communicate the same message and align with the marketing strategy (e.g. brand awareness for travel insurance keyword in SEO)
Cross-channel strategies, where channels integrate for better results (e.g. link building and web content all relating to travel insurance, aligning these two channels with SEO), or share data from one channel to benefit another (e.g. using Adwords data on best converting keywords and creating new pages that are optimised to rank for these keywords – alignment of Content Writing, SEM & SEO)
Macro-strategy that provides direction for all micro-strategies, facilitates cross-channel integration, measures the performance of each strategy and ensures that all initiatives are in line with objectives and brand messaging.
Digital Channels
The first steps for developing a Digital Strategy is understanding all the Digital Channels, best practice usage and how the channels can benefit your business.
SEO – Search Engine Optimisation
Search engine optimisation (SEO) involves keyword research around related terms, and the analysis of technical onsite and offsite optimisation issues. This often takes time to build authority and so is a long-term investment, which aims at positioning a brand's ranking high in organic search results. Unlike Adwords, clicks come free of charge, but requires an ongoing investment and a consistent stream of links to maintain and improve organic rankings, traffic and conversions. Check out why your business needs SEO!
It's no big secret that to capture search traffic, you need to be on the first page of Google for all of the reasons listed in the below graphic designed by yodaLONDON with stats by HubSpot.
SEM – Search Engine Marketing (AdWords)
Search engine marketing (SEM), commonly referred to as pay per click (PPC) advertising, is favoured for targeting highly competitive keywords to drive conversions. It differs from SEO in that it provides instantaneous exposure and focuses on keywords that represent purchase intent (e.g. buy prefix or location suffix). Remarketing is one of the most effective strategies in the SEM toolbox, allowing advertisers to segment their users and serve them Ad Copy or display ads based on their level of engagement on the advertiser's website. This can be used to drive conversions for low-involvement purchases like clothing, or provide further information for high-involvement purchases like professional services. As you can see from the below stats, remarketing can be incredibly effective in attracting clicks and conversions from returning users.
Link Building
As search engines continue to use links as the top indicator for a website's authority, link building remains an important part of the digital strategy. However, quality guidelines around link building have become increasingly stringent, with quality exceeding quantity; the Penguin 3.0 update saw websites with over-optimised anchor text and poor quality links take a significant hit in rankings. There is also an increased focus on relevance and deep-linking (links pointed to a page about the same topic).
An example of a deep-linking strategy would be if you had a web page about travelling to Vietnam from Australia. Ideally this page should contain links from pages on a high authority, Australian travel blog site that discuss travelling to Vietnam or Asia.
The below stats indicate the average share of links to the home page is 29%, meaning, on average, the other 71% of links make use of the deep-linking strategy mentioned above.
Content Marketing
The brutality of Penguin proved to be an impetus for the Content Marketing movement, with a renewed focus on rich, engaging and shareable content. This covers all content that appears on your website, such as text, images, videos, PDFs, ebooks and tools. The issue with a lot of content is that it hasn't been crafted with an audience in mind, or lacks a distribution strategy.
Paid media distribution and syndication can benefit Content Marketing efforts by targeting content, such as infographics, video, interactive quizzes and competitions (owned media), at the right audiences for improved engagement, social sharing and earned media link acquisition.
Social Media Strategy
Social media strategy is all about engagement. But it's not as simple as adding a post every few weeks or consistently pushing your latest sales promotions. A focused social media strategy segments users and creates personas. Based on these, timing and content can be tested to find the best mix for engagement with your target audience, across different channels.
For example, an e-commerce site is primarily focused on sales, but if you just post promotions on Facebook all the time, your social engagement might be quite low. A website that sells wellness products might mix it up by placing motivational quotes on their page throughout the day and running limited-time promotions at night or during lunch periods to entice users to purchase. And Facebook isn't the be-all and end-all social platform; the below stats show the Top 25 Most Engaging brands get far better engagement out of Instagram than Twitter (which you'd presume to be much higher than Facebook!).
Mobile Engagement
The adoption of smartphone and tablet technologies has radically changed the behaviour of internet users. The below graph from comScore shows an increase in multi-device usage from 53% to 57% from July to December 2013, and a subsequent decrease in desktop-only usage. This emphasises the importance of digital strategies focusing on cross-platform strategies. A mobile engagement strategy can be as basic as ensuring your responsive website provides a good mobile user experience or as advanced as using Adwords Remarketing, which can target mobile users who have visited your desktop version and serve different Ad Copy to increase conversions or even install your smartphone app! The application of mobile engagement will depend on the target audience and product/service, but mobile-centric strategies are no longer a thing of the future; they are an essential part of today.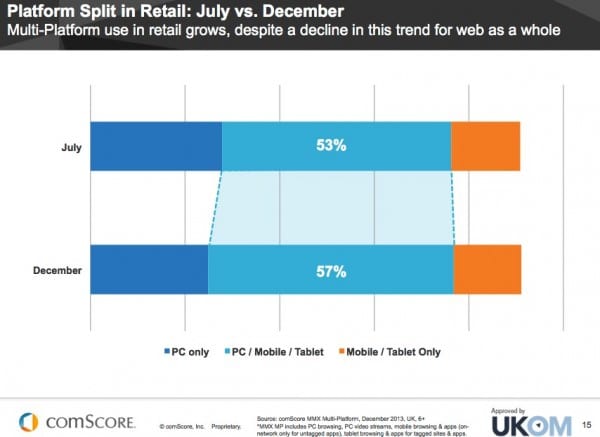 eDM (Electronic Direct Marketing) & Database Marketing
eDM (Electronic Direct Marketing) and database marketing are extremely targeted, in-depth approaches to online marketing. The two work in unison, with a company either building or purchasing a database that aligns with their target audience and delivering email marketing campaigns to those users. The best kind of eDM strategy uses advanced user profiling and intelligence from e-commerce purchases to produce custom offers. For example, instead of your regular email sign-up, a website could allow users to create an account via Facebook, granting the site access to their Facebook details. Using the Facebook API, the site could gather information on the user and group them into a database if, for example, they have high interaction with friends overseas. From here a custom eDM could be sent to all users in this database list that offers free shipping to up to 3 friends in different countries when spending $150 or more. API integration + Database intelligence = Highly targeted, custom offers!
As with mobile engagement, the adoption of smartphone technology has increased dramatically. Research from Litmus is summarised in the below chart, showing the rise of mobile email marketing to the point that nearly half of emails are opened on smartphones and tablets—a 500% increase in four years! It goes without saying that eDMs should be mobile centric!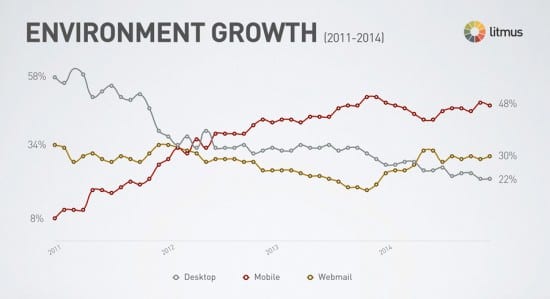 Web Design, Usability & User Experience
Too many website nowadays focus on what the client thinks is a good design, without thinking about the implications on usability and user experience. A UX-centric web design project should start with wire framing and build a website from scratch, avoiding WordPress themes that aren't what you or the user want.
Usability & user experience is a very broad area of web design, so instead of delving too far into it, I'm going to reference the great work of Peter Morville, who created the User Experience Honeycomb model that covers the basics of user experience. More information can be found here.
Useful – As practitioners, we can't be content to paint within the lines drawn by managers. We must have the courage and creativity to ask whether our products and systems are useful, and to apply our knowledge of craft + medium to define innovative solutions that are more useful.
Usable – Ease of use remains vital, and yet the interface-centered methods and perspectives of human-computer interaction do not address all dimensions of web design. In short, usability is necessary but not sufficient.
Desirable – Our quest for efficiency must be tempered by an appreciation for the power and value of image, identity, brand, and other elements of emotional design.
Findable – We must strive to design navigable web sites and locatable objects, so users can find what they need.
Accessible – Just as our buildings have elevators and ramps, our web sites should be accessible to people with disabilities (more than 10% of the population). Today, it's good business and the ethical thing to do. Eventually, it will become the law.
Credible – Thanks to the Web Credibility Project, we're beginning to understand the design elements that influence whether users trust and believe what we tell them.
Valuable – Our sites must deliver value to our sponsors. For non-profits, the user experience must advance the mission. With for-profits, it must contribute to the bottom line and improve customer satisfaction.
Conversion Rate Optimisation (CRO)
Conversion Rate Optimisation (CRO) is one of the most essential tools out there. Most websites don't have a traffic issue, but almost all websites have a massive conversion issue. CRO takes the guesswork out of your website by giving you insights from valuable tools like Heatmaps, Click tracking, User testings and A/B (Split) & Multi-variate testing tools. The difference between a conversion rate of 1% and 7% can be the most basic thing, like using bullet points instead of paragraph text, re-colouring your buttons, or removing all links, so the only clear path is to hit the BUY NOW button! For more information on CRO, check out my blog post on Landing page optimisation tips.
Here's some stats pulled from an infographic by Conversioner to give you an idea what other marketers are doing about CRO:
Analytics, User Behaviour & Competitive Intelligence
The greatest advantage digital has over traditional marketing is data! The use of Analytics software, user behaviour and competitive intelligence tools give so much more power back to digital strategists by empowering them with real, actionable data in order to make informed decisions to improve their marketing strategies. Like user experience, these topics are extremely broad and there are many resources and tools available to provide any level of insight required. Just Google it 😉
I've included some stats below to highlight the importance and benefits of user behaviour and competitive intelligence.
Online user behaviour stats sourced from Hubspot and ROI Research:
78% of internet users conduct product research online
40% of US Smartphone owners compare prices on their mobile device while in a store, shopping for an item
91% of email users have unsubscribed from a company email they previously opted in to
89% of users will modify their search and try again if at first they don't succeed; 79% will try a different search engine. Thus 9 out of 10 people trust that the information they seek is avaialble to them via the Internet.
Competitive Intelligence stats put together by TrackMaven:
As many as 89% of customers began doing business with a competitor following a poor customer experience
Large corps. spend >$2 million a year hiring firms or staffing internal departments to track & analyse their competitors
Nearly 70% of North American companies plan to increase their budgets for competitive intelligence
Of these 70%, 94% agree they have benefitted from competitive intelligence.
Mobile and Tablet Apps
It's no secret that the majority of smartphone users are accessing apps for a variety of purposes at every available opportunity.
Most people think of games or in-app mobile sites when they think of mobile apps and give little thought to commercial use. The below stats from Our Social Times highlights that Gen Ys, who use their phones 2 hours per day, will make up 50% of the workforce by 2020 and 96% of executives cite poor communication for failed workplaces. There are immense benefits for creating social business tool apps, to the point that 11% of businesses listed creating an internal mobile communication app as a priority in 2014!
That's a massive reason to create tools like this for resale or for internal efficiency! Consider adding an app to your digital marketing mix!
Next time on Digital Strategy 102:
I hope you enjoyed Digital Strategy 101: Digital Channels Overview. Tune in next time to Digital Strategy 102, where we'll cover Defining your Goals, Strategy and Tactics.
If you liked this post, please share it!